Hey!
Are you all as excited about spring as I am? I've said it before and I'll say it again...
Spring is one of my favorite seasons! I love all the colors that spring reminds me of! The bright and pastel colors mixed together ...Yummy!
I did a little spray painting last week when I thought it was warm enough. I decided to do it in the garage because it was a little windy and I definitely didn't want it to be blowing my paint everywhere but on the thing I wanted it on.
Um...lets just say it wasn't as warm as I thought it was, it took all day for the paint to dry!
BUT I did get it done! Take a look at what I came up with!
The "vase" I got at a thrift store. Do you recognize what it is? It's a IHOP bottle that they serve juice,milk or water in! I got it for $1.00!
$1.00 at Walmart ( and pretty much the whole alphabet left over) Paint sample paper from Home Depot= Free. I used two little pieces of ribbon on the side. First I glued on the pink and then the thin lime green one to give it a "pop" of color.
The cute little bird at Dollar Tree for of course $1.00 I actually picked up two and the other one is at the other end of my mantel by decor balls $1.00. I love the fun detail on this little bird!
Last but not least the yellow bead necklace is from my Grandma..Free. The Yellow flowers I picked up at Dollar tree after Christmas... five of them and they each had two branches on them for $1.00 each. I already had the paint and ribbon.
The grand total for this simple mantle is $9.75! LOVE IT!
Both the price and the mantle.
It's is very simple yet I really like it. Honestly it looks better in person..
I'm thinking the "picture taker"
(aka..Kirsten)
needs to take a photography class and get a better camera!
Oh, remember my Spring Decor Balls? They have a new home!
In my office/study in this cute wire basket!
You can find the tutorial on these
here.
See you all tomorrow for "Tutorial Tuesday!" It's a fun one!
Have a super day!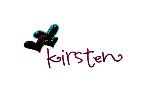 I will be linking up to these great parties: